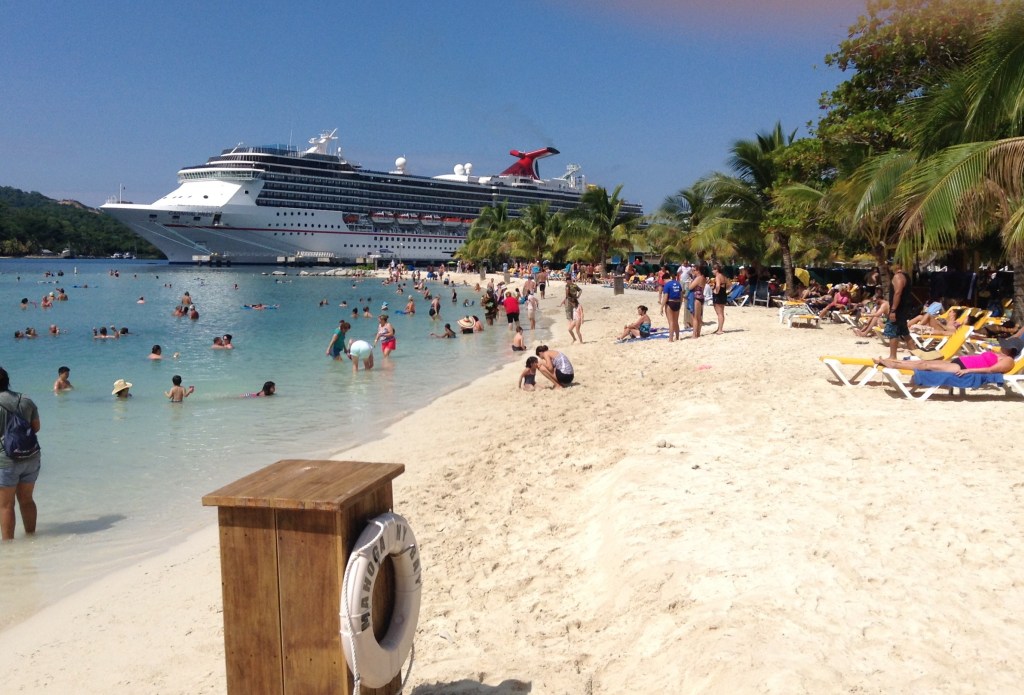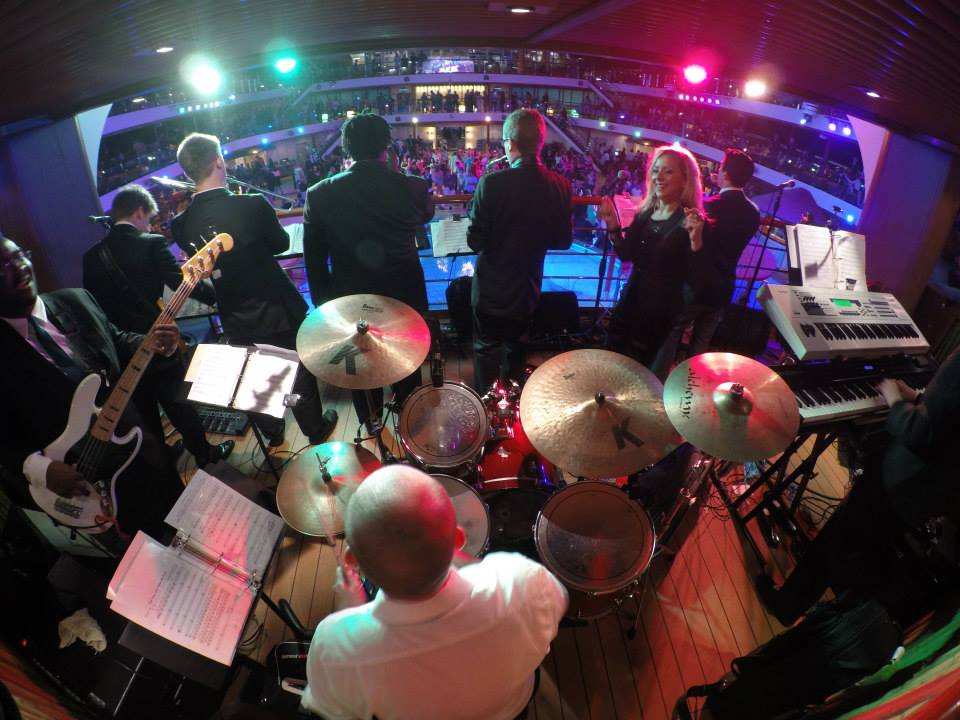 Cruise Ship Drumming
Part 6.
A typical week on board is between 10-15 hours total work time. So lot's of time to enjoy the Ports of Call, go to the gym, practice or socialize. Here's a typical week for us..
Day 1:
'Welcome Aboard Show' (short production show, 11 minute medley). Also play some short incidental music to welcome guests on stage 'David Letterman Band' style. Maybe catch a bad joke with a 'ba dom dom chish'. That kind of thing. Different guests are welcomed onto the stage for games and jokes.
-Immediately after The Welcome Aboard show, myself and the rest of the rhythm section race over to The Spotlight Lounge to do 'SSL' (Super Star Live). This is essentially 2 hours of live karaoke. Guests choose from a repertoire of 170 odd songs and sing live with the band. This gig is 100% sight-reading.
Drums are the only instrument with a click and it is my responsibility to count the group in and sync up with the video screens. I have a mic and talk to the sound engineer to communicate with the band what song is coming up and give him the green light to hit play when everyone has their music up. No pressure… right? The songs are diverse. From 'Man I Feel Like A Woman to 'Baby Got Back' to Van Halen. Some very interesting renditions of songs to be sure!
Day 2:
–'Groove Line' (production show). This is an hour long variety show, which we play twice. At 7pm and again at 9pm, with an hour or so break in between. These production shows are performed in a large theatre, all with click tracks and 'sweeteners'. They are literally non- stop. Like all theatre type stuff you need to be aware of multiple tempo, time signature and style changes.
To add to the fun, the stage revolves and at some parts you are in total darkness. This was the one show where the band were not in the pit and had to 'perform'. Everyone was wireless due to the stage moving and had to memorize the entire show due to the blackouts and not having sheet music on stage.
This show was 70's themed.
Day 3:
–'Dancing With The Cast'. We support the dancers as they teach the guests some Latin dance moves. You will need to have your Cha Cha, Samba, Tango and Bossa ready to go! We also play some entrance music 'Spain' and exit music which is just me on click and counting the band into 'I Was Made For Dancing'. Again this tune has backing tracks so it is my responsibility to be right on the click and drive the band.
Worth noting that before the exit music I have probably 30 seconds to get my in ears in and ready for the 4 clicks into the track. Luckily I wasn't caught with my pants down daydreaming. That would mean a train wreck with the whole band and dance cast relying on the drummer to synch with the backing track for a slick outro to the show.
–'Live Motown Set'. This is what we call a 'live set'. No click tracks, no backing tracks. Just the full 8-piece Showband doing an hour of Motown hits. Basically like a typical club or bar gig.
Day 4: Day off.
Day 5:
– 'Win' (Full length production show with a country theme).
– 'GPD Party', play some pop tunes and instrumentals for a short private party for returning or VIP guests.
Day 6:
– '80's Set' (Hour long live set of 80's hits).
– 'Funk & Disco' Set (Hour long live set of 70's hits).
These 'Live' sets are the most demanding things we do. We play loud and it's very precise. Also the tunes are not easy and they are highly arranged.
Day 7:
– 'Super Star Live' (another 2 hours of live karaoke). Honestly what other gig do you play Spice Girls, Blackstreet, Righteous Brothers, Sir Mix-A-Lot and Journey all on the same night?
– 'Legends' (production show). We back guests (in full costume) who earlier in the week won the
opportunity to sing classic hits on stage with the band and dancers. Famous hits by the likes of Tina Turner, Elvis, Frank Sinatra etc.
And then… time for the next cruise. And time to do it all again!